QUALITY
Our main efforts concern the quality of products and processes, and despite our emphasis on quality, our prices remain competitive.

We perform fully automatic testing on PC-based stations to check the whole production. Individual testing reports are kept in our database and a complete tracking of the product is available. Burn-in cycles are executed in climate cabinets with a temperature range of –10 ÷ 50 °C on every piece.

The warranty period for all our products is 12 months and we assure spare parts for 10 years after each unit's production date.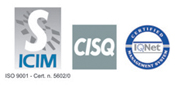 The Total Quality Management System, according to UNI EN ISO 9001:2008 is applied to assure the best results.
All our products are CE certified and some ETL-UL and NFS (sanitation) approved.
RESEARCH
STM Products is also specialised in the execution of research projects in the fields of electronics and mechanics. The company cooperates with the main Italian Universities and research centres, and has been registered in the Italian Research Register since 1988.

The following research programs, financed by the Italian Industry Ministry or by the EEC Commission (CRAFT scheme), were executed with STM acting as partner or as proposer and coordinator:
Energy and water saving fully automatic doser-mixer for the baking industry;
Marine mammals protection device;
Remote diagnosis and maintenance system for microprocessor controls;
Rheologic sensor for baking industry;
Tourism data collection and management system.